Microsoft Office Specialist 2018
31.05.2018
New national Microsoft Office Specialist for 2018
The grand finals of the National Microsoft Office Specialist was held today at the i-bank store branch of Stopanska banka AD - Skopje, promoting again the digital literacy in the R. Macedonia.

The championship that started in December 2017, marked over 1000 young participants out of which the top 40 are here today for the finals.

This years' champion JORDANCHO EFTIMOV from Kochani, will represent Macedonia at the World Championship in Orlando, FL, USA. Jordancho will compete against representatives of 140 countries for the Microsoft Office World Specialist title.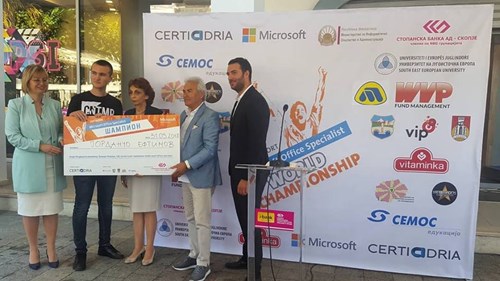 The opening was accompanied with addresses from the Deputy Mayor of Skopje, Mr. Enver Maliki, Mrs. Milica Caparovska - Jovanovska, Chief Retail Officer at Stopanska banka AD - Skopje, the Certiadria Manager Mr. Marko Serafimovski and the CEO of Semos Education, Mrs. Valentina Taseva.
The city of Skopje, as a partner to the MOS championship, provided 500 free tests for the high school students this year.
"Just by being here today, all of the finalists are winners and champions for us. Therefore the Bank awarded them with 5.000mkd vouchers and we hope that no matter the outcome of the finals today, they will leave here with a reward and a smile on their faces.
The Bank remains dedicated to promoting true values and enabling financial education which is necessary for the adult life of todays' students. This was the base on which we built our TOPSI platform as part of the efforts our generation makes to ensure the young have the required resources to build their careers and their futures here." Said Mrs. Caparovska - Jovanovska, Chief Retail Officer at Stopanska banka AD - Skopje.
The MOS championship is created for young students aged 13 to 22, i.e. all elementary, high school and university students. The participants of the challenge have the opportunity to prove their Microsoft Office skills: Word, Excel and PowerPoint (2013 or 2016).
For the first time this year, the National Adobe championship was also organized which included 100 participants. The finals shall be held next week and the winner will also represent the country at the Florida finals.
Stopanska banka AD - Skopje
On your side
Apply online
24 hours CONTACT CENTER
For further information, please contact